2017
10-15 January
Istanbul Furniture Fair (ISMOB)
Istanbul, Turkey
www.ismob.com.tr/en

8-11 March
Export Furniture Exhibition (EFE)
Kuala Lumpur, Malaysia
www.efe.my

8-10 March
Thailand International Furniture Fair (TIFF)
Bangkok, Thailand
www.thailandfurniturefair.com

9-12 March
International Furniture Fair Singapore (IFFS)
Singapore
www.iffs.com.sg

18–21 March
MChina International Furniture Fair (Guangzhou) (CIFF)
Guangzhou, China
www.ciff-gz.com

30 August - 3 September
Korea International Furniture & Interior Fair (KOFUR)
Seoul, Korea
http://www.kofurn.or.kr/pc.html

12-15 September
China International Furniture Expo (Furniture China)
Shanghai, China
www.furniture-china.cn/en-us
CAFA 22nd Annual General Meeting held successfully, Mr. Xu Xiangnan re-elected as Chairman of CAFA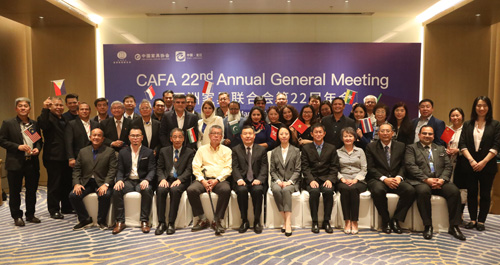 CAFA 39th Directors' Meeting held in Shanghai, China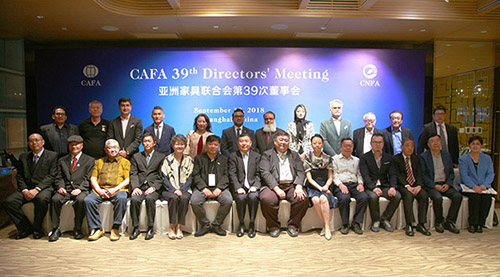 CAFA 21st Annual Genneral Meeting held in Longjiang,China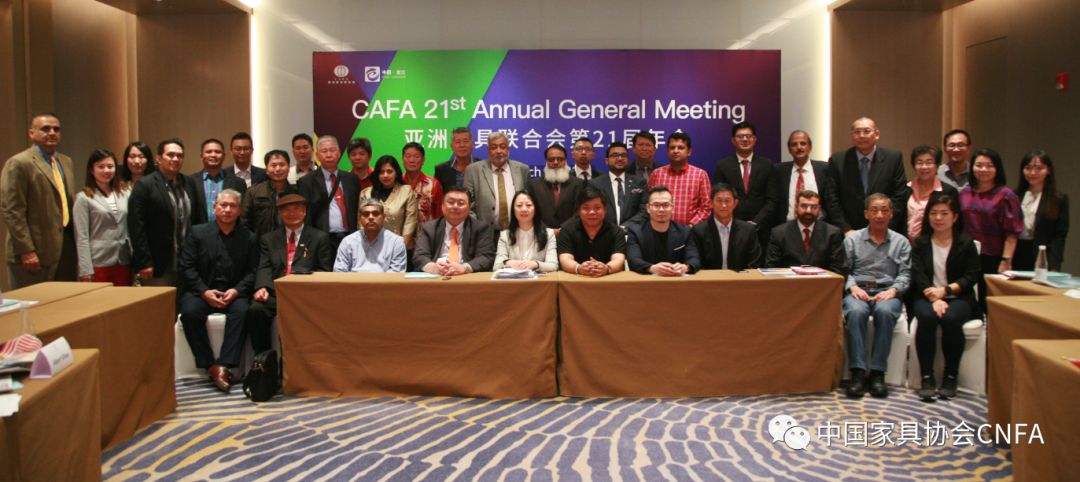 CAFA 38th Directors' Meeting held in Iran
Prosperity Road – The 2nd Asian Furniture Development Forum was held in Shanghai
2017 Asian Furniture Development and Cooperation (Longjiang) Summit held successfully
CAFA 37th Directors' Meeting held in Dongguan
CAFA 20th Annual General Meeting Hold in Iran
Asian Furniture Industry Cooperation Conference(Nanning & Shenzhen) were successfully held
The 2nd Asian International Furniture Exhibition (Nanning) Held Successfully
CAFA 36th Directors' Meeting was hold in Nanning
CAFA stands for Council of Asia Furniture Associations. It's the value network of the like-minded associations in the region. Together We Move Forward is the theme we have set our mind in leading CAFA in this term. Our member association can send their information to us to include in the website. This is the attempt to share and make our CAFA world a little smaller.
Current News

CAFA 18TH ANNUAL GENERAL MEETING :
5 December 2014
Beijing,China

.........................................
Archive

DECO IRAN 2014 :
14 October 2014, Iran>>read
33rd DIRECTOR'S MEETING :
2-4 September 2014, Dongguan, Houjie, China>>read
31st DIRECTORS' MEETING 2013 IN JAKARTA.
The 2013 CAFA Directors' Meeting meeting was held on 10-12 March 2013 in Jakarta, Indonesia. >>Program
16th ANNUAL GENERAL MEETING : 17-19 December 2012, Singapore >>read
.........................................
CAFA Rule : CAFA is organised to promote international cooperation based on mutual understanding and harmony for the promotion and development of the furniture and commerce industry in the Asia and Pacific region, and thus to contribute to the improvement and prosperity of the furniture in the region.
read...